Blaser's newest addition to their infamous R8 Rifle collection with a unique thumbhole stock, showcasing first class ergonomic design and comfort. All developed towards supporting more accurate shooting.
Available in all Blaser Calibres, see the full list here: Blaser Calibres
R8 Ultimate Key Features: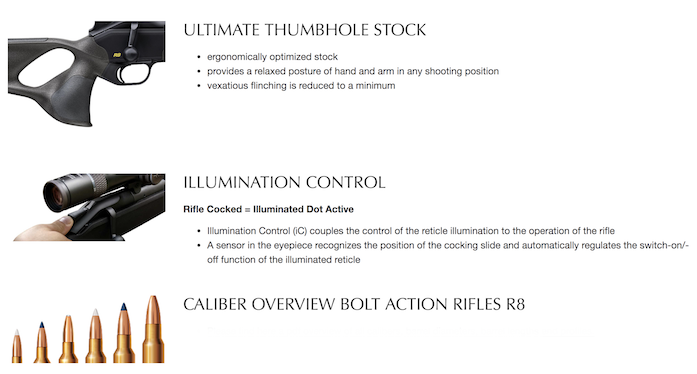 Stock Variants (these can be combined):
Adjustable Comb
A functional, simple adjustable comb allowing for optimal mounting in any circumstance. The comb boasts a memory function whereby, once set, it will always return to the same position.
Recoil Absorption System (RAS)
An excellent accompaniment for larger calibres, the recoil absorption pad offers a substantial decrease in the "punch" of a rifle alongside reduced muzzle flip. The internal elements come in different harness levels for a customised approach and therefore prime comfort for each individual.
Adjustable Recoil Pad
Perfectly alter the adjustable recoil pad by length, height and pitch for yet more comfort and stability whilst shooting. Very quick to adjust and helps with quick mounting when necessary.
See each of the variants here: